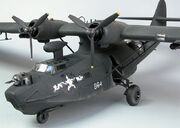 The amphibian version of PBY-5 was redesignated PBY-5A, and looked promising enough to compel the U. S. Navy to modify their original order for 200 PBY-5 units so that 33 of those aircrafts were executed as PBY-5A. This was followed by other supply agreements for additional 186 units of PBY-5A. Other countries followed suit, changing a portion of the ordered PBY-5 units to PBY-5A.
The PBY was used as a bomber and torpedo carrier, and was often utilized in night operations, as well as on patrol, rescue and transportation missions.
Ad blocker interference detected!
Wikia is a free-to-use site that makes money from advertising. We have a modified experience for viewers using ad blockers

Wikia is not accessible if you've made further modifications. Remove the custom ad blocker rule(s) and the page will load as expected.