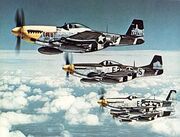 The North-American P-51 Mustang was an American fighter designed in the early 1940s and is considered the best US fighter of WWII. It was widely exported to countries in Europe, Asia, Africa and South America. The P-51 participated in the Korean War and other post-WWII conflicts.
The most famous Mustang version was the P-51D with teardrop (or bubble) canopy. The canopy had no framework and offered near 360-degree vision. The inaugural flight of the newP-51D took place at Inglewood, California on 17th November 1943.
Ad blocker interference detected!
Wikia is a free-to-use site that makes money from advertising. We have a modified experience for viewers using ad blockers

Wikia is not accessible if you've made further modifications. Remove the custom ad blocker rule(s) and the page will load as expected.