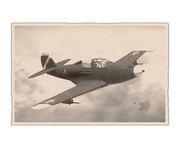 The Q series became the most numerous and advanced of all the Airacobra family. It was a direct successor of the N series. The whole propeller-engine group remained unchanged: the Allison V-1710-85 engine, the reduction gear, the elongated shaft and the Aeroprop type propeller. Takeoff weight, range and load varied from version to version.
Altogether, beginning with Q-1 and ending with Q-30, eight series of the fighter were built, to a total number of 4699 aircraft. Of these, 3291 were exported to the USSR. Furthermore a few reconnaissance versions of this aircraft, fitted with photo-cameras, were built on the basis of the Q series.
Ad blocker interference detected!
Wikia is a free-to-use site that makes money from advertising. We have a modified experience for viewers using ad blockers

Wikia is not accessible if you've made further modifications. Remove the custom ad blocker rule(s) and the page will load as expected.