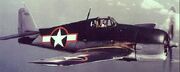 One of the best single-seater carrier-based fighters of World War II was the Grumman F6-3 Hellcat. The F6-3 was known for its superb speed and above-average maneuverability, and, according to official statistics, Hellcats destroyed 5,156 enemy planes, 75% of all kills scored by the USA's naval air force in World War II.
Production of the F6F continued until 1949, and 12,275 F6Fs (including 4,402 F6-3s) were produced. The F6F was the most widely-used American carrier fighter in World War II.
Ad blocker interference detected!
Wikia is a free-to-use site that makes money from advertising. We have a modified experience for viewers using ad blockers

Wikia is not accessible if you've made further modifications. Remove the custom ad blocker rule(s) and the page will load as expected.