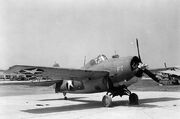 The F4F-3 was a single-engine all-metal plane with midwing construction, armed with four 12.7 mm M-2 Browning machine guns. Because of its lack of maneuverability, the F4F-3 lost to the Japanese fighter in close dogfights, so pilots prefer to avoid such situations by diving out of battle, taking advantage of their aircraft's higher speed.
The Wildcat was exported to Greece, Britain and Canada.
All in all, 7251 F4Fs (including all variants) were constructed, including 285 F4F-3s.
Ad blocker interference detected!
Wikia is a free-to-use site that makes money from advertising. We have a modified experience for viewers using ad blockers

Wikia is not accessible if you've made further modifications. Remove the custom ad blocker rule(s) and the page will load as expected.