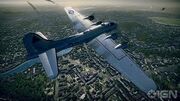 The legendary B-17 American heavy bombers were rightly called Flying Fortresses.
This four-engined heavy bomber was an all-metal hero, an extremely durable aircraft that could return to the airfield with just one engine, riddled with bullets.
But the early models of the B-17 had a significant blind spot in the rear, so fighter support was required. To solve this problem, the B-17E was produced, and a turret with two 12.7mm machine guns was installed in the tail section of the aircraft.
Ad blocker interference detected!
Wikia is a free-to-use site that makes money from advertising. We have a modified experience for viewers using ad blockers

Wikia is not accessible if you've made further modifications. Remove the custom ad blocker rule(s) and the page will load as expected.