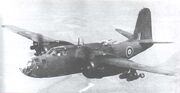 The Douglas A-20/DB-7 Havoc was a family of American attack, light bomber and night fighter aircraft of World War II, that served with several Allied air forces, principally those of the Soviet Union, United Kingdom, and United States. The DB-7 was also used by the air forces of Australia, South Africa, France, and theNetherlands during the war, and Brazil afterwards. The bomber aircraft was known asBoston among British and Commonwealth air forces, while the Royal Air Force night fighter variants were given the service name Havoc. The United States Army Air Forces assigned the DB-7 the designation "A-20" and gave it the popular name "Havoc".
Ad blocker interference detected!
Wikia is a free-to-use site that makes money from advertising. We have a modified experience for viewers using ad blockers

Wikia is not accessible if you've made further modifications. Remove the custom ad blocker rule(s) and the page will load as expected.