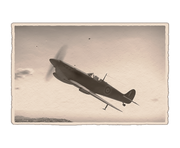 A single-seater, single-engined all-metal monoplane fighter. A later member of the Spitfire family, the Spitfire Mk.V (Type 349) variant had a redesigned airframe and a more powerful V-12 engine, the Rolls-Royce Merlin 45, with a centrifugal type supercharger and better performance characteristics.
The first planes using the new engine entered combat in February of 1941. The improved power and performance characteristics of the Spitfire Mk.V made it a competitive match for the new German Messerschmidt Bf.109F fighter.
The Mk.V's primary mission was raids on the continent. Fighters conducted raids both on their own and as support for bomber squadrons.
A total of 3,911 Spitfire Mk.Vb fighters were produced.&nbsp
Ad blocker interference detected!
Wikia is a free-to-use site that makes money from advertising. We have a modified experience for viewers using ad blockers

Wikia is not accessible if you've made further modifications. Remove the custom ad blocker rule(s) and the page will load as expected.