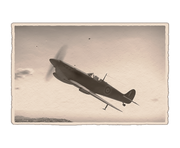 The Supermarine Spitfire was a British fighter of the WWII era. It was a single-engine, all-metal, low-wing monoplane with retractable landing gear. While the Mk VI variant was being designed, an earlier Mk VC was equipped with a new more powerful engine. It was hoped that this would quickly improve the plane's performance and result in an interim variant.
A total of 5,656 Mk IX were produced and 262 more Mk Vs were converted to Mk IX. Intended as a transitional stop-gap measure for the Mk VII and Mk VIII, the variant remained in production until the end of the war, ultimately becoming the most mass-produced Spitfire version. This mark was also used as a fighter-bomber and a reconnaissance plane.
Ad blocker interference detected!
Wikia is a free-to-use site that makes money from advertising. We have a modified experience for viewers using ad blockers

Wikia is not accessible if you've made further modifications. Remove the custom ad blocker rule(s) and the page will load as expected.