The Supermarine Spitfire was a British fighter of the WWII era. It was a single-engine, all-metal, low-wing monoplane with retractable landing gear. Various modifications served as fighters, interceptors, high-altitude fighters, fighter-bombers and reconnaissance aircraft.
A total of 20,300 Spitfires of all types were built during the war, including two-seater trainers. Some Spitfires remained in service well into the 1950s.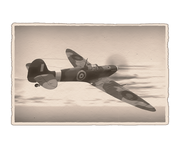 Ad blocker interference detected!
Wikia is a free-to-use site that makes money from advertising. We have a modified experience for viewers using ad blockers

Wikia is not accessible if you've made further modifications. Remove the custom ad blocker rule(s) and the page will load as expected.