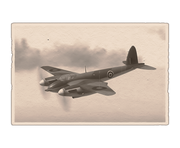 Twin-engined fighter-bomber.
In 1941, a multi-purpose variant of the Mosquito fighter-plane was designed. The Mosquito had magnificent speed and range and was thus perfectly suited for missions requiring night-fighters or any of a variety of long-range applications. Moreover, the Mosquito was continually modified and improved over its service life.
The Mosquito FB Mk.VI was widely used by the Royal Air Force throughout World War II and was known for its accurate bombing raids as well as its successes as a fighter.
Ad blocker interference detected!
Wikia is a free-to-use site that makes money from advertising. We have a modified experience for viewers using ad blockers

Wikia is not accessible if you've made further modifications. Remove the custom ad blocker rule(s) and the page will load as expected.