The Hawker Hurricane was a WWII-era British single-seat fighter designed by Hawker Aircraft Ltd in 1934. A total of 14,000 Hurricanes were manufactured during the war. Different variants acted as interceptors, fighter-bombers and attack aircraft. By late 1940, after the fall of France, most of the RAF squadrons in Britain were equipped with Hurricanes.
The Battle of Britain officially lasted from 1st July to 31st October 1940, but the heaviest battles took place between 8th August and 21st September. Spitfires and Hurricanes became famous for defending England from the might of the Luftwaffe.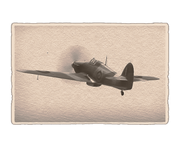 Ad blocker interference detected!
Wikia is a free-to-use site that makes money from advertising. We have a modified experience for viewers using ad blockers

Wikia is not accessible if you've made further modifications. Remove the custom ad blocker rule(s) and the page will load as expected.