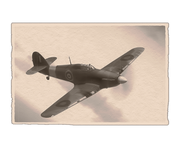 The Hawker Hurricane was the most popular World War II British fighter plane.
The Hurricane was the result of the Hawker company's efforts to create a monoplane fighter based on one of the best biplane fighters of the time, the Fury. The Hurricane turned out to be a reliable, easy to manage and agile fighter. Its survival rate was high, and it became well-loved by its pilots.
All in all, 14,533 of these aircraft were built (including all of the various modified designs).
Ad blocker interference detected!
Wikia is a free-to-use site that makes money from advertising. We have a modified experience for viewers using ad blockers

Wikia is not accessible if you've made further modifications. Remove the custom ad blocker rule(s) and the page will load as expected.