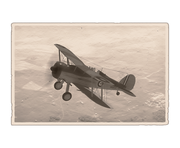 The Gloster Gladiator biplane fighter was the last and best biplane of the British Air Force. The Gladiator was released as a modification of the Gauntlet, replacing the obsolete Bulldog biplane fighter. The wing and landing gear were redesigned, the cockpit covered, and landing pads added. At the request of the Air Force, the armament was increased to four 7.7 mm machine guns.
A total of 717 Gladiator aircraft were produced, 311 of which were the modified Gladiator Mk.II.
Ad blocker interference detected!
Wikia is a free-to-use site that makes money from advertising. We have a modified experience for viewers using ad blockers

Wikia is not accessible if you've made further modifications. Remove the custom ad blocker rule(s) and the page will load as expected.