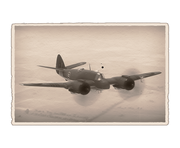 The Bristol Company decided to use the existing development and basic structural elements of the Beaufort torpedo bomber in the design of a new long-range fighter, and so the Beaufighter project was born, unique in that it was developed independently from any request by the UK Air Ministry. The designers adopted the wings, undercarriage, and tail design of the Beaufort and created a twin-engine all-metal heavy fighter.
Most of the last mass-produced aircraft in Britain were Beaufighter TF Mk.Xs. This model was a logical continuation and development of the Mk.VIc, had the same Hercules Mk.VI engine. The TF letters in the designation stood for «Torpedo Fighter.
Ad blocker interference detected!
Wikia is a free-to-use site that makes money from advertising. We have a modified experience for viewers using ad blockers

Wikia is not accessible if you've made further modifications. Remove the custom ad blocker rule(s) and the page will load as expected.