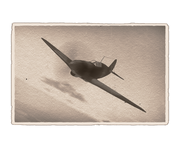 Yak-7B — This Soviet single-engine fighter was based on the Yak-7UTI, a tandem-seat advanced trainer based on the Yak-1.
The first Yak-7B rolled off the production line at Yakovlev in 1942; the last one was made in 1944. The Yak-7B's armaments consisted of two 7.62 mm SHVAK machine guns and one 20 mm ShVAK cannon. In addition, bombs aboard the plane could be suspended.
In all, the plane's manufacturer made more than 5,000 Yak-7Bs.
Ad blocker interference detected!
Wikia is a free-to-use site that makes money from advertising. We have a modified experience for viewers using ad blockers

Wikia is not accessible if you've made further modifications. Remove the custom ad blocker rule(s) and the page will load as expected.