The IL-4 long-range bomber was one of the most famous Soviet bombers of WWII. With thousands of IL-4s built, the aircraft took part in all the important battles of the Eastern Front, including long-range bombing raids of Axis industrial targets.
It was a twin-engine long-range bomber, a further development of the Ilyushin DB-3 bomber, with a redesigned cockpit, redesigned wings, pneumatic landing gear and a new fuselage designed for faster mass production, based on DC-3 / Li-2 production methods.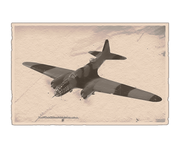 Ad blocker interference detected!
Wikia is a free-to-use site that makes money from advertising. We have a modified experience for viewers using ad blockers

Wikia is not accessible if you've made further modifications. Remove the custom ad blocker rule(s) and the page will load as expected.