On 21st July 1941 the lead designer of the IL-2 Sergey Ilyushin sent a request to the People's Minister of Aviation, calling for improvement of the IL-2 by upgrading the engine to a 1,675-HP M-82 and increasing the aircraft's armour.
The request was extremely urgent, considering that the rapidly advancing German troops at the time threatened serial production of the engines then used on the IL-2. An aft fuel tank, previously installed behind the pilot in the armoured tub, was replaced with a gunner compartment under a stretched canopy, armed with a 12.7mm (.50-cal) UBT machine gun with 280 rounds of ammunition. The gunner position, just like the pilot's, was well armoured.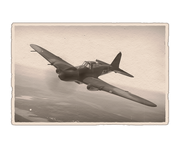 Ad blocker interference detected!
Wikia is a free-to-use site that makes money from advertising. We have a modified experience for viewers using ad blockers

Wikia is not accessible if you've made further modifications. Remove the custom ad blocker rule(s) and the page will load as expected.