The IL-10 Sturmovik was a Soviet WWII-era attack aircraft created by the Ilyushin Design Bureau in 1944. It first saw combat on 16th April 1945.
The heavily armoured IL-10 with the AM-42 engine was a perfect embodiment of the Soviet «flying infantry fighting vehicle» concept, whose combat efficiency when providing close air support was increased by «high mobility» over the battlefield, and somewhat improved armament compared to those used on the previous mainstay Soviet ground attack aircraft, the IL-2.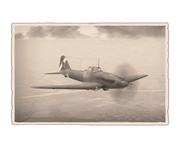 Ad blocker interference detected!
Wikia is a free-to-use site that makes money from advertising. We have a modified experience for viewers using ad blockers

Wikia is not accessible if you've made further modifications. Remove the custom ad blocker rule(s) and the page will load as expected.