The I-153P Chaika (Seagull) was a Soviet biplane fighter of the 1930s and 1940s. It was created by the Polikarpov Design Bureau in 1938. It is a modification (3rd variant) of the earlier I-15 fighter, as shown in the designation.
The Chaika was considered to be the fastest biplane in the world. However, at the start of hostilities between the Soviet Union and Germany, the I-153 could not compete on equal terms with the German Messerschmitt Bf-109 and therefore was mainly used in ground attack roles.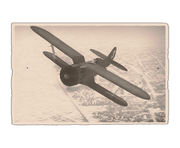 Ad blocker interference detected!
Wikia is a free-to-use site that makes money from advertising. We have a modified experience for viewers using ad blockers

Wikia is not accessible if you've made further modifications. Remove the custom ad blocker rule(s) and the page will load as expected.