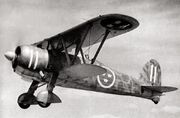 The CR.42 Falco («Falcon») fighter plane had, for a biplane, excellent speed and handling, and is rightly considered one of the best biplanes of the Second World War.The plane had smaller control surfaces and fuselage sections between the cab and tail to save weight and had fairings for the fixed main landing gear. An 840-horsepower engine was used for the CR.42.
All in all, 1,781 CR.42 fighters were produced.
Ad blocker interference detected!
Wikia is a free-to-use site that makes money from advertising. We have a modified experience for viewers using ad blockers

Wikia is not accessible if you've made further modifications. Remove the custom ad blocker rule(s) and the page will load as expected.