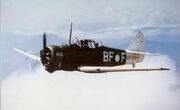 In April 1938, CAC obtained a license from the US company North-American to produce the two-seater trainer NA-16. On March 27th 1939, the first production model of the CA-1 came off the stocks at CAC. The aircraft was called the Wirraway, which in the language of the Australian Aborigenes means «Challenger», and was designated Mk.1. The Wirraway was fitted with a nine-cylinder radial air-cooled Pratt & Whitney R-1340 S1H1-G Wasp engine, rated at 600 h.p. at an altitude of 7000 feet (2135 m), and a three-bladed propeller.
The total output of Wirraways throughout the war was 757 aircraft, a record for Australia. Throughout 1942, Wirraways had to fight hard battles all along the front from the New Britain islands to the eastern tip of New Guinea.
Ad blocker interference detected!
Wikia is a free-to-use site that makes money from advertising. We have a modified experience for viewers using ad blockers

Wikia is not accessible if you've made further modifications. Remove the custom ad blocker rule(s) and the page will load as expected.