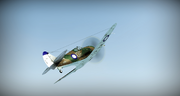 The CAC Boomerang was a light single-seater fighter plane. This single-engine monoplane, produced in Australia, was a remake of the CAC Wirraway trainer. It was armed with two 20mm cannons and four 7.7mm machine guns. The plane had good speed and handling, especially at low altitudes.
All in all, 95 Boomerang Mk.IIs were produced.
Ad blocker interference detected!
Wikia is a free-to-use site that makes money from advertising. We have a modified experience for viewers using ad blockers

Wikia is not accessible if you've made further modifications. Remove the custom ad blocker rule(s) and the page will load as expected.