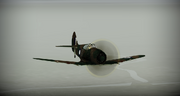 The CAC Boomerang was a light single-seater single-engine Australian fighter of mixed construction.
The Japanese attack on Pearl Harbor on December 7, 1941 and subsequent events showed how unready Australia was for war. The country had fewer than two hundred war planes, most of them obsolete. In order to have fighter planes as soon as possible, the CAC decided to remake the trainer into a fighter.
The CA-12 had high durability, good armament, and excellent flight characteristics.
Mass scale production began in July 1942 and 105 Boomerang Mk.I planes were produced.
Ad blocker interference detected!
Wikia is a free-to-use site that makes money from advertising. We have a modified experience for viewers using ad blockers

Wikia is not accessible if you've made further modifications. Remove the custom ad blocker rule(s) and the page will load as expected.