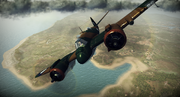 Originally created as heavy long-range night fighters, the later Bristol Beaufighters were used as bombers and torpedo bombers. The last major modification, the Beaufighter TF Mk.X, was considered one of the finest torpedo bombers of the time.
The Beaufighter aircraft series was the first with a radar system, allowing it to participate effectively in night operations.
The Australian version of the aircraft was named the Beaufighter Mk.21 and differed from its predecessor in its nose cone, the replacement of the 7.69mm machine guns with Browning M2 12.7mm guns, and the replacement of its Hercules XVII engine with a Hercules CVII (1600 hp).
Ad blocker interference detected!
Wikia is a free-to-use site that makes money from advertising. We have a modified experience for viewers using ad blockers

Wikia is not accessible if you've made further modifications. Remove the custom ad blocker rule(s) and the page will load as expected.